BURST PIPE REPAIR SERVICES
Temperatures in Toronto during the winter months tend to fluctuate all over the place. Due to the freezing and thawing, and freezing and thawing, burst pipes are very common. They are caused by the water in the pipes freezing, which in turn, can lead to the pipe bursting. Unfortunately this can lead to major flooding in the basement or other areas of the home. Water Damage Toronto assists over 100 homes each winter due to burst pipes and we are the experts in dealing with water damage cleanups.
When water freezes it expands, so when it happens in a pipe, it is limited to how far it can expand. When this happens time and time again, it weakens the structure of the pipe and eventually it will burst. Whether the pipe actually bursts or if cracks are created, there will be water damage, and in most cases, A LOT. Usually so much that it is impossible for you to clean up yourself.
Rely on a company that has the years of experience and expertise in handling any size flooding. At Water Damage Toronto, we work around the clock, 24/7 to ensure that we are always available, no matter the time your damage happens. Burst Pipes are usually unexpected, so knowing what to do when the times comes is extremely important;
Shut the water off to your property
Call Water Damage Toronto to dry out the property and extract any sitting water
Call a plumber to repair the damaged pipe
We are on site within 1 hour to start the drying process. A plumber or drain specialist will be called in to repair the source and repair the necessary pipes. All excess water will be extracted and any building materials affected will be removed if necessary. All the area's will be fully equipped with drying equipment, dehumidifiers and air movers, and the area's will be cleaned with an anti-microbial agent to prevent mold growth.
The time to act is as soon as the damage happens. Mold Growth can start within 24-48 hours after a water damage so to prevent any secondary damage, act fast. That is why we respond and act quickly, preventing as much damage as possible!
With our state of the art thermal imaging detection, we can see all damages, even what is not visible to the human eye. This will allow us to see behind all the walls and ensure there is no sitting moisture that can lead to mold growth.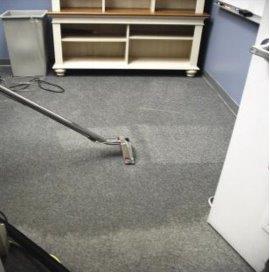 Water Extraction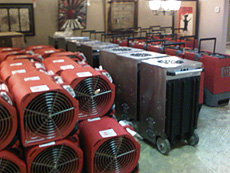 Drying Equipment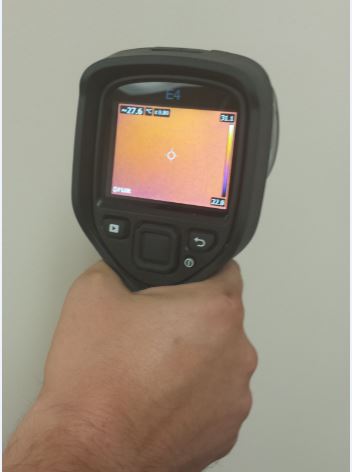 Thermal Imaging
Once the water extraction and drying process is complete, we can have our construction department come in and put your home back in the right order. Whether you want it back to its original state or add a new flare to the room, we can do it all. We take your ideas and bring them to life!
Burst pipe repairs are typically covered by your insurance, and we have experts that know how to deal with your insurance company for you! We are approved by all major insurance companies in Toronto and have years of experience with water damage claims. No matter the size damage, we can handle it!
If ever in need, don't hesitate, call 1-888-551-0514 and we can assure you peace of mind that your home is in good hands!