Ceiling Water Damage Repair & Restoration
Ceiling water damage repair is one of the most commonly needed water damage restoration services. Water damage to ceilings is common among property owners all year long, but different seasonal weather conditions can intensify the damage.
Is your ceiling water damaged? Contact Water Damage Toronto for emergency water damage restoration. Our team will be on-site in 45 minutes to reverse the damage and preserve your property.
Does Your Ceiling Need Water Damage Repair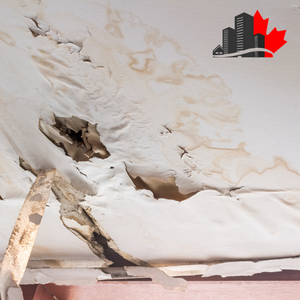 Depending on the cause of the water damage, many people don't notice that they need ceiling water damage repair until much later. Early detection and emergency water damage restoration limit damage and help you get your property back in good condition.
Look Out for these Early Signs of Water Damage in Your Ceiling:
Higher Than Usual Water Bill
White, Yellow, or Brown Staining On the Ceiling
Peeling or Bubbling Paint
Change in Ceiling Texture
Pungent Musty or Earthy Odour
Mold Infestation or Patterned Stains on Ceiling
Common Water Damage Culprits
Leaks
Burst Pipes
Storms
Plumbing/Drain Backups
Dangers of Leaving Ceiling Water Damage Too Long
The longer you go without ceiling water damage repair, the more extensive damage becomes, spreading in many ways infecting your air and degrading the structural integrity of your home. A fast emergency water damage restoration is essential to keep your home healthy and intact.
Mold: The first 24 hours of water damage is critical in preventing mold. Mold exists naturally in the air and environment but multiplies exponentially when exposed to water and cellulose building materials found in ceilings, such as drywall, paint, and plywood. Mold infests the air, compromising indoor air quality and causing health repercussions from allergy-like symptoms to headaches and nausea in occupants of a mold-infested property.
Property Damage: As water seeps and soaks into the ceiling, drywall and wood become oversaturated. As water sits in these materials, it begins to break them down, resulting in rotting. Eventually, without water damage restoration in Toronto, your ceiling will crumble, resulting in significant damage to your property.
Electrical Damage: Ceilings are typically equipped with light fixtures, which means wires run through the ceiling just beneath the surface. When water and electricity mix, it can cause many problems. Touching these light fixtures when exposed to water can result in dangerous shocks. Or delaying ceiling water damage can damage the functionality of the light by frying the wiring. In one of the worst-case scenarios, water infiltrating a light fixture can lead to electrical fires.
To protect your property and the people in it, get ceiling water damage repair in Toronto fast with Water Damage Toronto. We offer emergency water damage restoration services and respond immediately, providing water damage restoration across the Greater Toronto Area within 45 minutes.
Need Ceiling Water Damage Repair Near Toronto
Emergency water damage restoration is always nearby in Toronto with Water Damage Toronto. Get urgent ceiling damage repair in no time.
We will dispatch our emergency water damage cleanup response team immediately and be at your Greater Toronto Area location in under an hour to begin restoration efforts.
Why Choose Water Damage Toronto?
Our team of trusted technicians has been providing home restoration services in the Greater Toronto Area for over a decade. With industry expertise, advanced equipment, and IICRC certification, Water Damage Toronto is equipped to provide the best water damage cleanup and repair services in the region.