Flood Restoration Services in Toronto
Flooding to commercial and residential properties can happen suddenly. Even with warning and flood preparation, you might still find your property flooded and in need of water damage restoration in Toronto. If you do, don't stress: call Water Damage Toronto for expedited water damage repair and clean up.
What Causes Flooding in Toronto?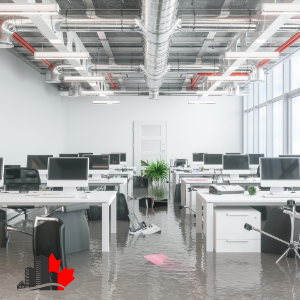 There are few reasons you may require flood restoration services in Toronto. Burst pipes, melting snow, heavy rain, and sewer backups can all flood your property, damaging the floors, walls, furniture, and structure. Water damage restoration and clean up from one of Canada's top restoration companies, Water Damage Toronto, can help you remove water and salvage furniture, appliances, and other items within your home.
Flood Restoration & Clean Up with Water Damage Toronto
Aiming for 100% customer satisfaction, the IICRC certified Water Damage Toronto team shows up for emergency water damage remediation within 45 minutes 24/7. From flood water removal to clean up and salvaging water logged items, our team has the experience and training to streamline water damage repair and clean up in Toronto.
Identify the Water Source
If there is a leak causing water to enter your property or a burst pipe, the team at Water Damage Toronto first identifies and secures the water sources to stop more flooding from occurring.
Flood Water Removal & Remediation
Using proven professional techniques and powerful dehumidifiers, Water Damage Toronto dries affected areas and eliminates water from the scene. Our fast water extraction techniques virtually eliminate the potential for mold or significant damage.
Sorting Salvageable Items
Items are divided into salvageable and non-salvageable items based on their exposure to flood water, duration of exposure, fabrics, and functionality. While non-salvageable items will be removed through this stage of flood clean up, as many items will be salvaged as possible.
Final Clean Up
The final step is to clean up any remaining humidity or waterlogged areas and return your property to its original pre-flood state. Our team works diligently to remove any indicators of flooding so your home or business will be safe and comfortable for occupancy.
Signs Flooding Has Caused Water Damage
When it comes to water entering your property, fast action is imperative to water damage restoration. If flooding occurs in the basement or out of sight, you may not be aware of the damage it has caused, so it's important to be mindful of the signs. Once you learn the telltale indicators of flooding and damage, you can repair and clean up sooner.
Discolouration
Following a flood, you may notice dark, yellow, or brown lines on white surfaces along with drywall, floors, and ceilings. If you see these signs, call Water Damage Toronto for an inspection of your property. In an emergency, our team will be on-site in 45 minutes or less to identify any structural damage and begin restoration
Peeling & Sagging Walls
Bubbling or paint peeling or drywall is a clear indicator that there is excess humidity within a property. As a result of heat and evaporation, this symptom of water damage can occur even if flooding never reaches that level. When humidity levels are higher during the summer months and storms are more frequent, it is essential to watch for this sign.
Strong & Pungent Odours
Foul or musty odours are almost always linked to mold growth. Improper flood water clean up can leave water deposits in dark areas of basements and garages or other low levels and the dark regions of a property, significantly accelerating mold growth. Expert water damage repair and clean up is essential to preventing mold infestations.
Call Water Damage Toronto for fast and effective flood restoration any time of the week.