WATER DAMAGE CLEANUP & REPAIR SERVICES
Water damage in Toronto is anything but rare. If your property has recently suffered from a burst pipe, flood damage, or leak, you're not alone, but you'll need water damage repair services fast to minimize damage and maintain the health of your property.
While some instances of water damage are more severe than others, all cases require emergency water damage repair. That's why our team shows up on-site for everything from leak repair to basement cleanup in 45 minutes or less.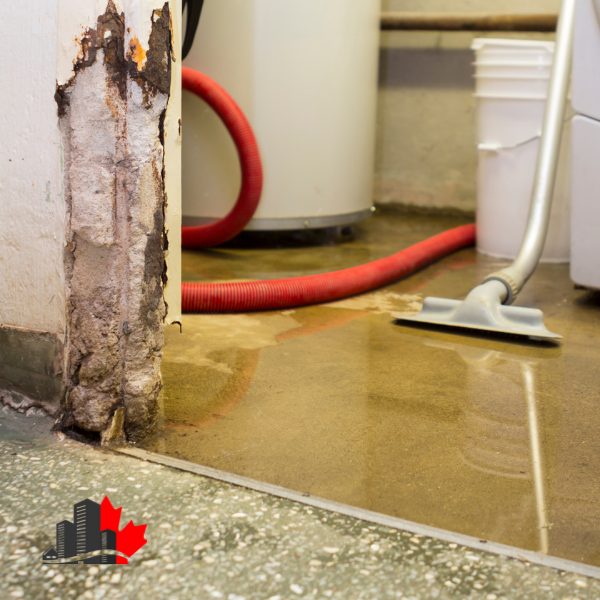 Act Fast & Save
Reduce costly structural damage to integral building materials
Prevent mold infestations
Avoid Illness from contaminated water
Black Water Damage Cleanup
Don't try and restore water damage yourself, especially the murkier the water becomes. There are three types of water damage recognized by water damage restoration companies. When you call water damage Toronto, let the technicians know what you see, and we'll be over to handle the rest. Blackwater damage repair is an emergency, most often occurring from a sewage backup. Urgent professional basement cleanup is required to avoid exposure and contamination from bacteria and chemical deposits in the sewage.
How Long Does Emergency Water Damage Repair Take?
The success of basement cleanup and water damage restoration is all about speed. So, at Water Damage Toronto, we take a multi-step approach and use industry best practices and high-tech equipment to streamline the process to ensure lasting and high-quality results.
Step 1: Protect Yourself: Following a call for help to the Water Damage Toronto team, the most important order of business is to protect yourself and any other occupants of the property. Before technicians arrive, turn off any power sources you can easily access. Wear protective clothing like masks, rubber gloves, or boots. Whenever possible, stay away from any contaminated water. Our team will be on-site within just 45 minutes or less for emergency water damage repair.
Step 2: Water Removal: Once our team arrives, we will remove the water using pumps and other specialized equipment, then we will dry out the area, so it's no longer wet.
Step 3: Remove Damage Furniture & Belongings: While the water is being removed and the floors are being dried, technicians will remove furniture and property to properly dry out. At the same time, non-salvageable items like wet insulation and drywall are discarded.
Step 4: Home & Basement Cleanup:Finally, technicians will clean up any residue, dirt, and bacteria, restoring your property and preventing mold and other types of secondary water damage.
Why Choose Water Damage Toronto for Emergency Repairs
Trustworthy: Water damage Toronto is a division of Canada's Restoration Services, one of the country's most notable and reputable restoration services. We take special care to ensure the best water damage repair results for every job.
Fast: We understand that with water damage, time is always of the essence and we act fast using a tried and true strategy to restore your property to a healthy standard that is safe to reoccupy.
Full Range of Services: We are an award-winning restoration service provider that can help you remove water, restore your property, and prevent secondary damage like mold.
Certified: The team of technicians at Water Damage Toronto is certified by the IICRC, the largest and one of the most reputable certifications for restoration companies in Canada.
Experienced: Our water damage technicians have years of experience repairing and restoring water-damaged properties of all kinds. From plumbing mishaps and construction defects to storm damage and leaks, the team at water damage Toronto has the know-how to tackle it all.