How to Identify Hidden Causes of Water Damage in Toronto
Posted in Water Damage, on July 17, 2023 By admin
---
Water damage is no one's friend. It can often hurt the house's structural integrity, causing tons of damage, from decay and mold to electrical damage. Flooding, leaks, and other sources of water damage can be difficult to anticipate, most often catching property owners by surprise. Being able to spot the signs of water damage quickly and responding promptly helps to salvage the longevity of your home or commercial property. If you require water damage restoration, call Water Damage Toronto. Our team can arrive on-site within 45 minutes of your call for emergency water damage service .
To learn more about identifying hidden causes of water damage, read more.
Early Signs of Water Damage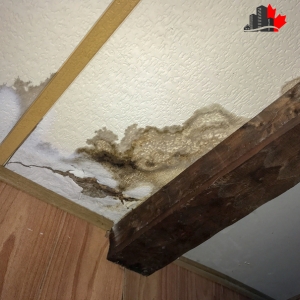 There are ways to catch water damage early on. In a few cases, water damage occurs over some time. Here are some signs to look out for, as water damage is a time-sensitive matter.
Discolouration: can occur on all surfaces (ceilings, walls, window ledges, etc.) They may appear as beige or brown rings. The darkness and amount of rings can identify how long it has been there. These rings are a result of recurring soaking and drying.
Peeling/Sagging: Moisture is a prevalent cause of paint peeling as the water forces the paint to lift from the surface. Once the paint begins to peel, it continues until the water damage is rectified. Sagging happens prominently in ceilings due to the water accumulating under the surface. It's essential to remediate this as soon as possible to prevent significant water damage that is more damaging due to gravity.
Increase Water Bills: If you notice higher water bills, it may be time to call for an inspection. Sudden jumps in your bill over a couple of months can be a clear indicator that there is a leak.
Common Causes of Water Damage
When searching for the root cause, there are certain areas to look at. Anywhere where water is present is the obvious answer; however, other reasons include:
Condensation
Roof leaks
Gutters and Downspouts
Any faulty appliances (fridge, washing machine, dishwasher, etc.)
It's essential to check on these areas of the house as they are light-traffic areas. Either check for yourself or contact a professional for an inspection.
How to Prevent Water Damage
There are preventative measures you can take to not give yourself the worry of water damage. Look into regular inspections; if there is a concern, you can catch the problem early before it heavily affects your home. Other fixes can be done yourself. For example, if you come across any cracks, you can easily re-caulk those areas to prevent leaking. It's also important to know what you are putting in your drains, as food and other debris can cause pipe leaks.
Water Damage Restoration from the Experts in Toronto
Catch water damage before it's too late with Water Damage Toronto. As Toronto's leading water damage restoration company, our team is professionally and explicitly trained in water restoration and remediation. We have to answer your emergency calls and can arrive within 45 minutes of your contact. We strive to give our customers the best service possible to get their home back in great shape.