How to Control Burst Pipes & Water Damage in Toronto
Posted in Water Damage, on August 17, 2023 By admin
---
The hassle of cleaning up from water damage in Toronto can be a headache. Learn how to prevent, control and remediate water damage with Water Damage Toronto, where we provide all kinds of services to get your home back to its best shape. We specialize in water damage restoration all around Toronto and the GTA. We have you covered, whether it's from a flood or a broken plumbing system.
Find tips on how to control water damage and burst pipes below.
What Caused the Pipe to Burst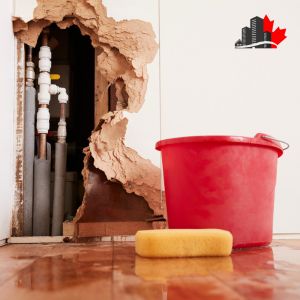 There are many possibilities as to why your pipes can burst, which many are natural occurrences:
Freezing: As we endure drastic weather changes throughout the year, it's possible that the freezing of pipes occurs. Once the water freezes, it partially blocks the way, causing the pressure of the water to eventually expand and causing the pipe to burst.
Natural occurrences: It's often that tree roots grow in the same vicinity as your pipes. Usually, when they grow, it can put pressure on the pipes causing them to burst, especially in compact soil.
Rust and corrosion: If your pipes are metal, they are bound to experience this. It causes the pipe walls to weaken, eventually experiencing cracks and leaks. An excellent way to notice this is if your water is coming out discoloured.
Clogs: These can be caused by foreign substances and objects entering the pipes. They cause blockages in the lines, which leads to pressure buildup, forcing the pipes to burst.
Accidental damage: When digging up your yard or undergoing renovations, you can cause a burst pipe when excavating if you are not careful.
Common Signs of Water Damage
It's good to be aware of any signs of water damage in Toronto at all times to prevent severe damage. Many common symptoms include:
Sharp increases in water bills
Change in water pressure
Dripping sounds
Bubbling or cracked paint
Mold infestations
Water ring stains on walls and ceilings
By looking out for these signs, it's less likely you will need extensive water damage restoration.
What To Do When You Notice Water Damage
Once you notice a burst pipe or water damage, be sure to turn off the main water supply immediately; this will stunt the water flow. Once completed, be sure to drain the pipes as well, as water is stored in them when the water flow is off. Find the cause of the leak, then call your local plumbing company to fix or replace it. From there, you can call the professionals at Water Damage Toronto to remediate the mess.
Clean Up with Water Damage Toronto
As a leader in the water damage industry, Water Damage Toronto aims to provide efficient and effective restoration services to bring your home back to comfort. We provide services 24/7 and will arrive on-site within 45 minutes to tend to the problem in a timely manner and provide the best possible services to our customers. Contact Water Damage Toronto today for a free inspection with IICRC-certified professionals.