Are April Showers Causing Water Damage in Toronto?
Posted in Water Damage, on April 20, 2023 By admin
---
As the old adage goes, "April showers, bring May flowers," which is especially true in the Greater Toronto Area, where rainfall is especially heavy come the spring. Water damage in Toronto is common in the city, even beyond weather events. When water damage incidents occur, it's imperative that restoration efforts commence immediately with burst pipe repair or sewer backup cleanup and repair from a professional restoration company. At Water Damage Toronto, our expert technicians will help you combat water damage issues caused by rainfall. Read on to learn more.
How Rain Causes Burst Pipes?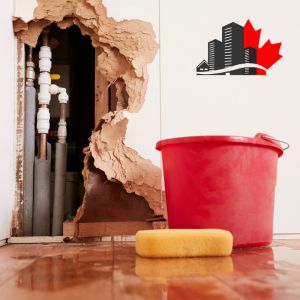 Rain can cause the ground to shift, increasing pressure on a property's plumbing system, as the temperature begins to drop with rainfall, freezing pipes can cause homeowners and commercial property owners to need burst pipe repair. As rainwater infiltrates the plumbing infrastructure causing backups, and increased water pressure. The more water in your pipes and property, the greater your chance of a burst pipe. When your pipes become overwhelmed, contact the Water Damage Toronto team for urgent restoration services.
How to Prevent Burst Pipes & Water Damage
While water damage can be inevitable, the best way to save your property from water damage in Toronto is by preventing burst pipes.
Maintain plumbing systems with regular cleanings and inspections.
Insulate your pipes or maintain indoor temperatures to prevent freezing when the weather gets cold.
During periods of heavy rain, monitor your home's plumbing system for any signs of leakage or damage.
How Rain Causes Sewage Backup?
Sewage backup repair is required when drain pipes in a commercial or residential property become clogged or blocked by an influx in water causing drain water to return back into the basement or crawl space, and even the lawn. Sewage backups increase after heavy rainfall. An increase in precipitation saturates the ground and floods sewer lines sending the water into a backwards flow. Not only does this water damage in Toronto introduce a risk of mold if sewage backup cleanup does not occur promptly, it also causes contaminants to come back into your property.
How to Prevent Sewage Backups?
The best way to prevent sewage backups is by staying on top of your drain health, clearing clogs and debris ahead of a storm. You can also minimize water damage in your home by installing a sump pump which facilitates the removal of water from your basement. When you need water damage services during the Spring, contact our team immediately. We provide urgent water damage restoration services including sewer backup cleanup and burst pipe repair, reaching you within 45 minutes.
What to Expect from Restoration Services
The restoration process may involve drying out the affected area, removing any standing water with advanced equipment, and repairing any damage caused by the water. Our teams will separate salvageable and non-salvageable items. As a specialized and experienced restoration company in the Greater Toronto Area, we'll perform visible mold inspections to determine if you also require mold removal in Toronto. When water damage occurs, the best course of action is to contact a professional.