What to Do When Your Sump Pump Fails
Posted in Water Damage, on May 17, 2023 By admin
---
When it comes to preventing water damage, especially due to flooding and excess rain, a sump pump comes in handy. Sump pumps are excellent additions to properties. Because they automatically pump water away from the property's foundation, there's often no need to worry about flooding or water damage. However, what happens when your sump pump fails? While unfortunate, it does happen. When your sump pump stops working, especially during a storm, contact Water Damage Toronto for water damage restoration. Our team of experienced technicians will help clear out any excess water from your property.
Here's what you should do when your sump pump fails.
Why Did Your Sump Pump Stop Working?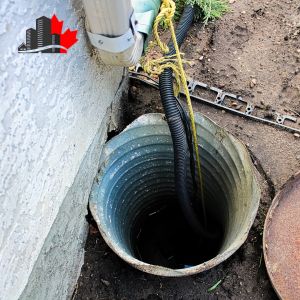 Your sump pump may stop working for a wide variety of reasons. A primary reason it stops working may be a power failure. If you have a sump pump, getting a backup generator is well advised to ensure it continues to work even in a power outage. Other common reasons your sump pump fails may be a switch malfunction, a motor burnout, a leak in one of the pipes, or a blockage.
Step 1: Contact a Professional
When your sump pump fails, and you notice that water is infiltrating your property, it's imperative to contact a certified professional water damage restoration company immediately. Specialized and certified technicians, like the pros at Water Damage Toronto, will help extract water from your property and clean up any affected area. When you're on the phone with the company, try to tell them the extent of the water damage. Remember, there are different categories of water damage about the scope of the damage and flooding. For example, Category 1 means minimal drying time is involved. In contrast, Category 2 and 3 involve widespread damage and significant drying time and require comprehensive restoration.
Step 2: Clear Out the Affected Area
While waiting for the professionals to arrive — which, with Water Damage Toronto, should only be around 45 minutes — try to clear out the affected area. Unplug any electronics, and elevate them well above the water line. This will reduce the risk of potential long-term electrical damage. Additionally, try to relocate any furniture to a dry spot, if possible, and pull up any area rugs to an elevated area. This way, the damage to your furniture and belongings is minimal.
Step 3: Increase Ventilation
When water infiltrates your property, keep ventilation high. High ventilation will help dry out your property and increase the restoration process. You can open windows and put on exhaust, ceiling, or regular standing fans. When you plug in your fans, make sure you do so far away from any water.
Following Water Damage Restoration
Once water damage restoration is complete, fix your sump pump and invest in a backup generator. This way, you can guarantee that your sump pump won't fail during the next storm. Additionally, get a dehumidifier to continue to dry out the affected area. While our tools and equipment will extract and dry out lingering moisture, continuing to dry out your property will only have long-term benefits.
For water damage restoration, contact Water Damage Toronto today.