Most Common Causes of Flooding in Toronto
Posted in Water Damage, on June 13, 2023 By admin
---
Flooding usually happens when you least expect it. Sometimes, a pipe will burst out of nowhere, an appliance could malfunction and overflow, or your home may flood during heavy rain. Regardless of how water infiltrates your home, it's important to conduct water damage repair and restoration as soon as possible. With the help of Water Damage Toronto, your property will return to its pre-disaster condition. Without professional — and efficient — water damage restoration, your property may experience long-lasting damage.
To ensure your property stays healthy and safe, keep an eye out for water damage. Here are six common causes of flooding.
Sump Pump Failures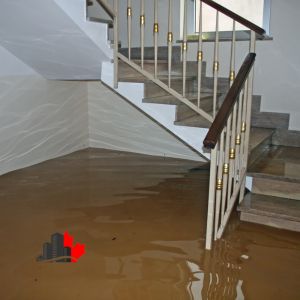 While sump pumps are installed to prevent flooding, they may malfunction and fail. Sump pumps could fail for various reasons; they may be burnt out and overworked, overwhelmed with water, or stop working if the power goes out. If you have a sump pump, it's best to have a backup generator and regularly check on your sump pump to ensure it's in peak condition. By maintaining it and taking proactive steps, like having a generator in the case of a power outage, you avoid the risk of flooding and water damage.
Foundation Cracks
A compromised and cracked foundation may be difficult to spot until it's too late — like when water flows into your property. If the soil around a property becomes oversaturated, which may easily happen after rain or melting snow and ice, a cracked foundation will let water into your property. If you notice water seeping into your property, contact Water Damage Toronto for comprehensive and advanced water damage restoration.
Appliance Overflow & Malfunction
While we rely on our appliances for everyday use, sometimes, they malfunction and overflow, possibly causing widespread water damage. A broken water heater, a clogged filter in a dishwasher, or an improperly connected hose to a washing machine may cause extensive water damage to your property. To avoid water damage or at least reduce the risk, ensure your appliances are in good condition.
Leaks & Burst Pipes
Pipes may also leak, especially if they're older and degrading. Since pipes are in the walls, leaking pipes often go unnoticed for long periods, causing severe property damage. Burst pipes may also cause similar results. Burst pipes are also a common cause of flooding, especially in frigid temperatures. If you notice a leaking or burst pipe in your property, immediately turn off your property's main water valve and contact a professional.
Rain & Bad Weather
Torrential rain and extreme weather are common causes of flooding. While you can prepare for bad storms and heavy amounts of rain, there's not much you can do to stop the flooding and damage. However, there are preventative measures, such as installing a sump pump with a backup generator to clear all rain gutters and ensure your foundation is in good condition.
Contact Water Damage Toronto
While no one thinks their properties will be flooded, sometimes, it's bound to happen. If you notice water infiltrating your home, reach out to Water Damage Toronto. Our certified professionals will arrive quickly at the scene and ensure your property is restored and repaired.