10 Things You Should Do Immediately After a Pipe Bursts
Posted in Burst Pipes, on June 14, 2021 By admin
---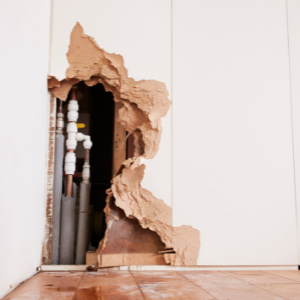 A burst pipe in your home can happen suddenly and unexpectedly. In some cases, the water can infiltrate and cause damage to the building structure and to your belongings. This type of disaster will typically require expert flood repair services and flood damage restoration fast, so it's important to be prepared and respond promptly.
While professional repairs and restorations will return your house to its original condition, there are certain things that can be done when the disaster first hits. The aim, of course, is to get things under control ASAP. And this is when a "Top 10" list can be a valuable reference.
Quick action is key to avoiding damages.
With water flooding, time is of the essence, and the key is to avoid additional damages from occurring. When waiting for professional help to arrive, there are some basic things to do that require minimal experience. The idea is to get a head start and set the stage for the experts.
Disconnect electricity
Wherever possible, it's best to turn off the electrical system in your home to avoid electrocution.
Stop the flooding
When a burst pipe causes water flooding, it's quite easy to shut off the main water control valve.
Salvage belongings
Even with an instant flood, it's possible to remove belongings/valuables from the flooded area.
Call your insurer
A good first step is to advise your home insurer and start a claims process with water damage.
Remove water
If possible, especially in the basement, standing water should be allowed to drain immediately.
Dry the space
To dry things out, open the windows, use a dehumidifier, and let the heating system operate.
Preventing mold
Drying out the flooded space is essential in preventing mold from starting to grow and spread.
Document damage
It's always a good idea to take photos and videos with your cell phone to document the disaster.
Call a professional
Contact a water-damage professional to ensure effective clean up, repairs, and restoration.
Plan for the future
While prevention is the best approach to flooding, it's also wise to have a defined disaster plan.
When it's time to call the professionals
With water damage, particularly when there's an emergency, there's no alternative but to call a professional contractor. At Water Damage Toronto, we offer emergency flood services, flood repair services and flood damage restoration.
When the need is urgent, our restoration team can be on-site in an hour. In fact, we are also available 24/7 for dire emergencies. Our in-house technicians are IICRC Certified, and we ensure 100% customer satisfaction on every job we attend.
Water Damage Toronto provides professional services for residential and commercial properties. We make every effort to restore the premises to "pre-disaster" condition. On the job site, we quickly assess the situation to get things under control.
When it comes to repairs and restoration, we adhere to the highest construction standards. We also work with most insurance companies to better streamline the claims process.
Call Water Damage Toronto today or send us a message online to learn how we can help restore your water-damaged property quickly and effectively following a flood.