3 Water Damage Mistakes to Avoid in 2023
Posted in Water Damage, on January 20, 2023 By admin
---
Water damage in Toronto is a persistent threat in properties across the city, with various causes such as minor leaks, pipe damage, sewage backup, or sump pump failures. Regardless of how water infiltrates your property, water damage restoration from a professional service, like Water Damage Toronto, must be conducted immediately. If a flooded basement in Toronto is left unchecked, it may lead to significant problems throughout your property, ranging from health issues to structural damage. By approaching water damage restoration fast and strategically, you'll help ensure your property endures a healthy recovery.
Here are some common water damage mistakes you should avoid.
Waiting Too Long for Restoration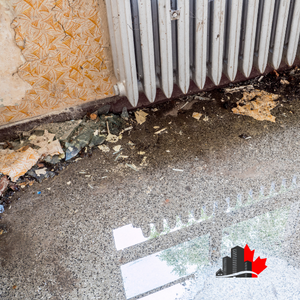 Waiting too long to contact a professional for water damage restoration is a serious mistake. The moment you notice water in your property, such as basement flooding from an appliance leak, is when you should contact the Water Damage Toronto team. Our technicians will show up on site in 45 minutes or less in the GTA to provide immediate care. The longer you wait for a restoration team to arrive, the more water will seep into your walls, floors, carpets, and furniture. As a result, it'll be difficult for your property to completely dry out and increase the chances of secondary water damage, such as electrical damage or widespread mold infestations.
Attempting DIY Restoration
When it comes to water damage in your attic, a leak in your kitchen, or a flooded basement in Toronto, do-it-yourself methods should be avoided. Attempting to clean up a flood or water damage on your own is stressful, ineffective, and could put your health at risk. Depending on the type of water, you may be exposed to grey or black water, which is filled with bacteria or contaminants which may cause gastrointestinal illnesses. With experienced and professional water damage restoration from Water Damage Toronto, we will conduct a thorough inspection to determine the extent of the water damage. By the time we're finished, your house will be clean, disinfected, and safe.
Ignoring Safety Precautions
With water damage comes some health and safety issues. There may be broken pipes, bacteria and contaminants in the water, unstable flooring, broken gas lines, and the potential for electrical shocks. If you notice your home flooding, regardless of the cause, it's best to stay away from the affected area and contact a professional immediately. When you contact Water Damage Toronto, our trusted technicians will arrive quickly at the scene.
Preventing Water Damage
Sometimes, water damage and flooding are entirely out of our control. However, there are two key ways to prevent it from occurring. For one, keep an eye on your pipes and don't let them freeze. Burst pipes are a common cause of flooding, especially in the frigid Canadian winters. To keep your pipes from freezing, make sure all of your pipes are adequately insulated and that your property is at a comfortable temperature. Another common mistake people make that often leads to water damage is not investing in a sump pump. A sump pump will pump water away from your property, effectively stopping water infiltration and flooding. However, you must get a backup generator with sump pumps so it doesn't fail during a power outage.
Reliable Water Damage Restoration Near Toronto
For stress-free, efficient, and thorough water damage restoration, the specialists at Water Damage Toronto are here to help. Our technicians are equipped with IICRC-certification and experienced at restoring water damaged properties and identifying secondary damages. We also work with your insurance company to streamline remediation. To learn more about your water damage services near Toronto, contact us directly.