4 Steps of the Water Extraction Process
Posted in Water Damage, on October 18, 2021 By admin
---
Water damage shows up to homes uninvited, in some cases it can sneak up on homeowners slowly through leaks or it can happen all at once as a result of heavy rainfalls or bursted pipes. Regardless of how it happens, it's critical to get water damage restoration as soon as possible to limit any damage in your home and get it back to its pre-disaster condition.
Water damage restoration is a multi-step process centred around water extraction. To be successful, emergency water damage restoration in Toronto needs to be initiated quickly. When you call Water Damage Toronto for water extraction and restoration, our team of IICRC professionals will show up across the city in 45 minutes or less.
Here are the steps we take at Water Damage Toronto to ensure comprehensive and effective emergency water damage restoration in Toronto.
Step 1: Get a Water Damage Inspection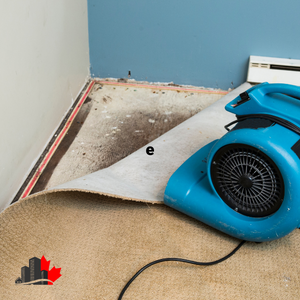 Once our team arrives on site, we conduct a thorough inspection to assess any potential damage and look at the extent of existing water damage. Immediately, we make sure to stop the source of the leak and create an in-depth strategy on how to continue and ensure that your belongings in your home are safe and in good condition.
Step 2: Eliminate Water With Extraction
For us to effectively eliminate water throughout your home, especially in hard-to-reach areas and corners, we use powerful and industrial-grade pumps and vacuums. We use enhanced technology and equipment during the water extraction process, such as moisture detectors, infrared cameras, and hygrometers to ensure that we've reached every nook and crevice in your home.
Step 3: Determine What Can Be Salvaged
While we eliminate water, we determine which items can be salvaged and,unfortunately, which items will have to be discarded. For instance, non-porous possessions, like plastic, tiles, glass, and metal, can be restored with just simple disinfection and air drying.
However, porous items are trickier because the water seeps into the materials, making them difficult to completely dry out and susceptible to mold growth. Porous materials can include your couch, mattress, and even laminate flooring. Luckily, if you contact our team for emergency water damage restoration in Toronto as soon as you recognize water damage, we can try to salvage as much as possible. The less you wait, the less the extent of damage.
Step 4: Drying and Assessing Damage
After all the water is eliminated from your home, we use dehumidifiers and air movers throughout to ensure that the air dries out and there's plenty of airflow to prevent any chance of mold infestations happening.
Once water damage restoration is complete, it's a good idea to monitor moisture levels to avoid mold and other problems. We recommend continuing to use a dehumidifier to continue to dry out your space and a hygrometer to measure moisture levels which are ideally around 30%. It's also smart to ensure there is adequate airflow through open windows and other venting methods.