5 Signs of Past Water Damage in Toronto Basements
Posted in Water Damage, on July 21, 2022 By admin
---
Most basements, especially those unfinished or only partially finished, are equipped with basement drains that enable flood water to move quickly outside your property. Sometimes, water that enters the property can dry up before anyone goes into the basement. Despite water no longer being immediately noticeable, water damage in Toronto or a sewage backup in the basement that hasn't been professionally restored will lead to many problems. When water damage goes unnoticed, it results in mold outbreaks, electrical damage, and structural issues.
When water damage occurs, restoration in the first few hours is critical. The Water Damage Toronto team can help you erase and restore the impact of water damage in your property quickly and safely.
To learn more about the signs of past water damage in Toronto, read on.
Peeling or Bubbling Paint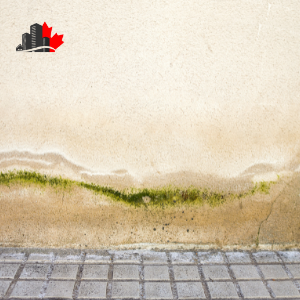 Peeling and bubbling paint is a significant indicator of past water damage. Moisture from previous, unrestored water damage that lingered within the walls causes the paint to lose adhesion, resulting in bubbling or peeling. Gutters or downspouts that are blocked or don't divert water far away from the property are common reasons behind excessive moisture within the walls. In addition, leaking pipes or condensation within your plumbing system may also cause peeling paint. No matter how big or small, past water damage in Toronto should always be restored.
Ominous Odours
Unfortunate odours lingering around your house, especially in your basement or drains, could signify past sewage backup in the basement. If sewage backup is not cleaned up or repaired, it may result in foundation cracks, mold growth, plumbing issues, or health issues. Sewage backup must be cleaned up by a professional to ensure that your home is safe to be in. In addition, if your home has a musty, stale odour, that indicates a sign of a moisture problem and mold growth.
Sinking or Uneven Floors
Sinking or uneven floors are a clear sign of shrinkage or erosion under the foundation. Heavy rains will saturate the soil, resulting in water pooling or puddling under the foundation, ultimately causing structural problems. If you're walking around your basement and notice a wobble in the floor, or a gap where the basement wall meets the floor, you'll need to get that inspected and repaired immediately. If your basement is carpeted but still feels that your floors are uneven, pull back the carpet to check for any cracks or other signs of structural damage.
Wood Rot
High humidity and lingering moisture from previous water damage will often result in wood damage. If water and condensation linger on wood surfaces, like floorboards or ceiling joists, this may lead to wood rot and cause serious structural issues.
Electrical Damage
While you may not check if all electrical outlets in your home function when you first move in, it's a clear sign of previous water damage. If a flood, burst pipe, or basement water damage has occurred previously, electrical damage is bound to occur. If you're looking to move into a new home, or are curious about the previous state of your home, check to see if electrical outlets work. If not, you'll need to call a professional to look for previous water damage and moisture problems.
If you suspect your Toronto basement has fallen victim to water damage, contact Water Damage Toronto for comprehensive inspections and restoration services.