Categories and Classes of Water Damage in Toronto
Posted in Water Damage, on January 11, 2022 By admin
---
If you've ever experienced water damage in your home, you know it's unpleasant and stressful. While all instances of water damage, whether it be sewage backup cleanup, leaks, flooding, or storm damage, requires professional water damage restoration in Toronto each case is different and demands a different type of treatment. At Water Damage Toronto, we customize water damage restoration in Toronto to each case to ensure optimal results. Understanding the various categories and classes of water damage is not only helpful to the responders, but for your safety as well.
Read on to learn more about the categories and classes of water damage restoration in Toronto as well as sewage backup clean up.
Why Water Damage in Toronto Has Categories and Classes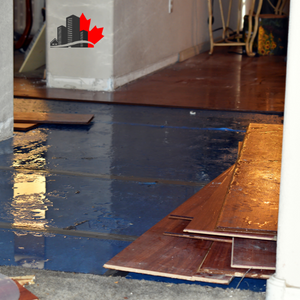 Water damage is broken into categories and classes to help response crews assess and implement an appropriate and safe action plan. Categories are meant to indicate the sanitary level of the water damage, whereas classes indicate the amount of water in the property. Upon contacting Water Damage Toronto for water damage restoration in Toronto, if you know where the source of the flood is, or approximately how much water is in your home, let our professionals know so we can proceed with the best practices.
Category 1
Category 1 water damage means the water has come from a sanitary source; flooding from a broken water supply line, a toilet tank, or a faucet. Category 1 water damage, although it is clean and doesn't pose any immediate health threats, it's imperative to get it cleaned up immediately by trained water damage restoration technicians to avoid mold and structural damage.
Category 2
Category 2 water damage may occur from an overflowing washing machine, toilet, among other things like a sump pump failure and broken dishwashers. Category 2 water is mixed with chemicals or has contamination in which it could cause discomfort or illness if you — or your pets — ingest it. In this case, call Water Damage Toronto immediately.
Category 3
Category 3 water damage, also known as black water, is unsanitary and generally happens from flooding from rivers and sewer backups. Black water is hazardous and contains many contaminants that may cause severe health issues. If you have sewage backup, contact Water Damage Toronto right away for emergency water damage and sewage backup clean up. In cases requiring emergency water damage restoration in Toronto, our team will arrive on site in 45 minutes or less.
Class 1
Class 1 is the easiest class of water damage to deal with; there's minimal property damage, where only a small part of a room is affected. In most class 1 water damage cases, the water has saturated surfaces with low porosity, like plywood or concrete, and only light repairs will be necessary.
Class 2
Class 2 water damage is more widespread than class 1, with the water affecting carpeted areas and at least 30cm up the walls. Class 2 will require more repairs, and if it's not repaired immediately, there will be lasting structural damage.
Class 3
Class 3 is widespread water damage, in which the ceilings, walls, insulation, carpet, and sub-floors are all immersed with water. Class 3 may come from a sudden and extreme flood rather than a slow leak.
Class 4
Class 4 affects surfaces quickly saturated with water, like concrete, plaster, and hardwood, making it difficult to entirely eliminate the moisture. Due to the widespread damage and water saturation, restoring may take longer than other classes and requires special methods.
When water damage happens, identify the source of the flood, stay safe, and act fast.