How to Choose the Right Water Damage Restoration Company in Toronto
Posted in Water Damage, on January 14, 2019 By Admin
---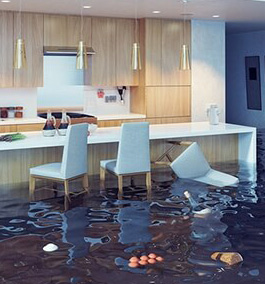 Water damages in Toronto require immediate action because the longer you wait to fix up and address a water damaged place, the more problems flooding can cause. It is essential to not rush or hire a water damage restoration company in Toronto without looking at their credentials and expertise. Hiring an unqualified and unexperienced company can lead to creating more destruction to your home or business and can also lead to the growth of mold. Mold begins to form when there is excess moisture that may have resulted from an improper water damage cleanup in Toronto. Choosing the right water damage restoration company can lead to minimizing any damages that have occurred and preventing any additional damages from transpiring. We have listed some important tips to follow to help you select the right company:
Certifications Are Important. Ask your contractor about their licenses to operate and their certifications. These qualifications are good indicators of service quality as they help make sure that the company adheres to industry standards and are in compliance with local safety regulations. When hiring a water damage restoration company in Toronto, you want to make sure that they are licensed to do business in the area and have passed all required tests to meet the level of service that industry standards dictate. Water Damage Toronto is fully licensed and IICRC certified. We follow a strict step-by-step procedure for water damage restoration that follows industry standards and regulations. Our team of professionals are highly trained and skilled in water damage restoration and flood restoration in Toronto and have years of experience.
Take A Look At Their Reviews. Referrals from family, friends, neighbors, and colleagues are always a great place to start when looking for a service and water damage restoration Toronto companies are no exception. Ask for recommendations from people you trust or check on customer reviews online—these are excellent ways to gauge the quality of service that your prospect company can provide. Water Damage Toronto has over 500 online reviews, with happy customers speaking about their positive experience with our company.
Go Local. It is always a good idea to choose a local company, especially when it comes to water damage restoration. This is because you want an immediate response to your emergency in case a flood breaks out, especially when it is sewage-related. The longer you wait to get water damage fixed, the more it can ruin furniture and the quality of your flooring and foundation, among many other structural components of the home. It also means prolonged exposure to potentially harmful elements, not to mention more expensive clearing and repair work. With a local company, you can have your home restored in no time. Water Damage Toronto operates in every city across the GTA. We guarantee to be on site within 45 minutes for all water damage emergencies in Toronto and operate 24 hours a day, 7 days a week.
Call us now to book your free water damage inspection or for all water damage emergencies 1-888-551-0514