Common Causes of Water Damage in Condos
Posted in Water Damage, on September 23, 2021 By admin
---
Water damage is often associated with flooding, making condo owners unaware of the potential for water damage in their own space. The need for water damage restoration can occur due to numerous issues: a leaky dishwasher, burst pipes, or even an aging water heater. Prevention is always the best solution, so be aware of what may cause water damage when it comes to condo living.
The importance of emergency water damage restoration in Toronto cannot be stressed enough. If you leave water damage untouched for longer than 48 hours, it can severely affect the structural integrity of your home and lead to many problems. To keep you and your condo healthy, contact Water Damage Toronto for water damage restoration, where we can come to you within 45 minutes of your emergency.
Continue reading to learn about the causes of water damage in condos and how to prevent it from happening.
Rain and Weather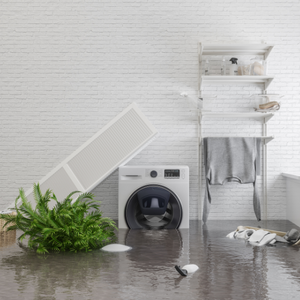 Any kind of damage or rift in the exterior of your condo — siding, roof, or even the sliding door from your balcony — can let water in. Always take preventative measures and check the condition of the exterior for holes or cracks. If you notice any fix it or report it to your property manager immediately to avoid the need for emergency water damage restoration in Toronto during the city's next significant rainfall.
Flooding
Aside from heavy downpours during the Fall in Toronto, flooding in condos can often happen from plumbing-related issues. Plumbing issues that result in the need for water damage restoration can be any of the following: a leaking washing machine, an overflowing toilet, or even a leak from a bathtub or shower. To prevent any plumbing issues, it's crucial to keep up with the maintenance of your pipes and be aware of any leaks occurring early on.
Burst Pipes
Burst pipes are something you might not immediately think of when you're living in a condominium, but they can surprise you. Pipes can burst due to being frozen, increased water pressure, or even just corrosion from old age. If you turn on a tap and no water is coming out, that can signify potential pipe issues and the need for water damage restoration in the near future. In a condo, burst pipes can come without warning and cause severe damage, be sure to call Water Damage Toronto for fast, effective cleanup.
Water Heaters
Water heaters can be another cause of water damage that may not be the first thing on your mind, but they can be a water damage risk lurking in your storage room. If your water heater is old and well-used, it can cause a significant spill and a lot of water damage, even impacting your neighbours if you live in a high story unit. You may often forget about your water heater, but it's essential to be diligent about maintaining it. If it's not appropriately maintained every 10 years, you can find water damage in your space.
Act Fast
It's absolutely essential to be aware and efficient when there's water damage happening in your condo. Act fast and call Water Damage Toronto to save as many belongings as possible and protect your home's structural integrity.
Contact Water Damage Toronto today to learn more about our emergency water damage restoration services.