Contaminants Sewage Backups Bring into Your Home
Posted in Sewage Backup Cleanup, on October 17, 2022 By admin
---
Sewage backups may happen for various reasons; a blocked main sewer line, overflowing municipal pipes, or even tree roots infiltrating older sewer mains. Regardless of why or how it occurs, sewage backups, like all water damage, need immediate attention. Without professional sewage backup cleanup from a water damage restoration company, it's messy, hazardous, and frustrating.
If sewage backup cleanup isn't taken care of promptly, contaminants may enter your property, like mold spores. For water damage restoration and mold removal in Toronto, contact the Water Damage Toronto team.
Read on to learn more about what contaminants may enter your home from sewage backup.
Categories and Classes of Water Damage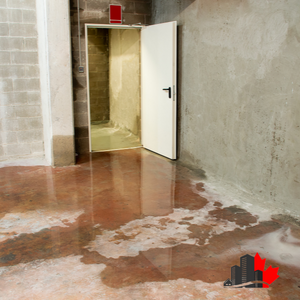 Water damage is categorized into different categories and classes, all depending on the source and multitude of the damage. Category one water damage means the water comes from a sanitary source, like a broken water supply line or faucet. Category two may have some health risks, as the water might be contaminated with chemicals. Category two may come from an overflowing toilet, washing machine, broken dishwasher, or sump pump failure. Category three, however, comes from sewage backup and is unsanitary. The contaminants in black water damage may result in severe health issues.
The classes of water damage all depend on how severe and widespread the damage is. Class one only involves minimal property damage and is limited to one room. In contrast, the other classes involve porous surfaces, an increasing amount of affected rooms, and floors fully immersed in water.
Contaminants in the Sewage Backup
Sewage backups are a category 3 water damage emergency. They can contain bodily waste, chemicals, and other harmful bacteria. If sewage backup cleanup isn't conducted immediately following the damage, you may experience lingering health problems and illness. Aside from chemicals and harmful bacteria, mold spores will also enter your home following sewage backup. The excess moisture from the water damage makes your property an attractive and ideal place for growth. If water damage restoration and sewage backup cleanup aren't performed within two days, mold will flourish, and the urgent need for mold removal in Toronto will be necessary.
Preventing Sewage Backup
A sump pump is an essential part of preventing sewage backup. A sump pump will sense when water levels are too high and will pump the water away from your home's foundation and far from your property.
Responding to a Sewage Backup
If you experience a sewage backup, we understand that it's stressful and unpleasant. While you may be unsure what to do, the first order of business should be to contact a trusted professional for water damage restoration and sewage backup repair. While you wait for our team to arrive within 45 minutes of your call, be sure to unplug items, elevate your belongings off the floor, and try to save your personal items from the affected area. It's absolutely imperative that you act fast; by doing so, you'll reduce structural damage, reduce damage costs, and protect your health from harmful lingering contaminants.
For fast and effective sewage backup repair, contact Water Damage Toronto.