Health Risks of Sewage Backup in Basements
Posted in Sewage Backup Cleanup, on January 17, 2022 By admin
---
If you've experienced a sewage backup, you know that it's unpleasant and has the potential to cause severe structural damage to your home from mold to air contamination. Aside from damage to your property, there are also several health risks if you're exposed to sewage backup in your basement. If there has been sewage backup on your property, contact Water Damage Toronto right away for water damage restoration in Toronto and our team will be on-site within 45 minutes.
Here's what you should know about the effects of sewage backup in basements.
Health Concerns Associated with Sewage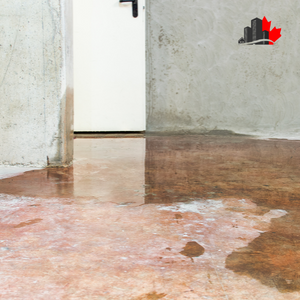 Water encroaching on your property from a sewage backup in the basement is contaminated with microorganisms and bacteria that may cause serious illnesses. Sewage backup in basements and exposure to waste water can lead to gastroenteritis or poliomyelitis. EIther of these viruses may cause abdominal pain, cramping, nausea, or in severe cases, temporary paralysis. Further, exposing yourself to raw sewage may put you at risk of developing diseases, such as Hepatitis A or Typhoid Fever.
If you have experienced sewage backup in your basement, contact Water Damage Toronto right away for water damage restoration in Toronto. While you're waiting for our team of certified professionals to arrive, make sure you wear PPE if you're going near the sewage — boots, goggles, gloves, and a mask — to maintain your health and safety.
What Causes Sewage Backups in Toronto?
There are many causes of that sewage backup in basements. The most prominent reason is a clogged toilet, and unfortunately, if you don't remove the clog quickly it will overflow, and you'll need emergency sewage backup and water damage restoration in Toronto.
Sewage backup may also be the result of an overflowing septic tank, backed-up sinks, tubs, or even backed-up floor drains. Backed-up floor drains are primarily a result of an overwhelmed sewer system during heavy rainfall or blocked main sewer line, causing the sewage to return to the lowest point of your home — the floor drains in the basement.
There are a couple telltale signs to enable early detection of sewage backup in your home. For instance, sewage backup may be imminent if you notice your drains are slow, gurgling, or have an unfortunate odour. Further, there might be puddling in and outside of your property, cracks in your foundation, or even mold growth.
Sewage Backups and Mold
If water damage and sewage backup aren't cleaned up within 24-48 hours, there's a significantly high risk of mold growing throughout your home. If this occurs, you're not only at risk of facing health troubles related to sewage exposure but for mold as well. Sewage waste provides a prime breeding ground for mold; there's moisture, organic matter, and if it's in your basement, it's typically dark with low ventilation. After getting professional sewage backup and water damage restoration, ensure that you maintain proper air ventilation and low humidity to keep mold growth at bay.
Ensure that sewage backup doesn't have long-lasting damage, especially regarding your health. Get professional sewage back up and clean up right away to keep you and your home healthy and safe.
Contact us now for water damage restoration Toronto!