How Rainstorms Lead to Sewage Backups in Toronto
Posted in Sewage Backup Cleanup, on July 08, 2022 By admin
---
Summer rain in Toronto is common, and scientists predict that the wet weather will continue to increase in the coming years. Unfortunately, rain and stormy weather around the GTA are also one of the main reasons why homeowners require water damage restoration in Toronto. Among the worst types of water damage in Toronto is sewage backups which bring storm runoff, chemicals, and harmful pathogens back into your property.
Here's what you need to know about rainstorms, clogs, and sewage backup cleanup.
How Rainstorms Cause Sewage Backups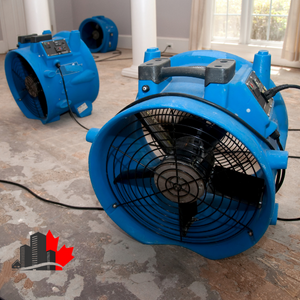 Heavy rains or rain storms can lead to flooding and debris build-up in the door drains, which can clog and overload the sewer system. This excess groundwater water cannot be transported efficiently and can cause backflow into your main sewer line or flood your yard or basement. The water pressure and clogged debris can also cause your sewer pipes to burst or crack.
Warning Signs of a Sewage Backup
Gurgling Sounds: If you hear gurgling or bubbling sounds when using a toilet, sink, or shower, it indicates a possible backup in the sewage system. It's vital to note that even slight gurgling sounds after flushing the toilet can be warning signs of a sewage backup.
Skanky Smells: You can often smell a sewage backup before you can spot it. Foul odours from your tub, sink, or basement drains are clear signals of a clogged sewer and potential backup. These foul odours are both unpleasant and unhealthy. Be on the lookout for grey or black water being pushed back up through the sink or shower drain and call Water Damage Toronto for damage control and safe sewage backup cleanup.
Slow Drains: If you notice slow drainage in the shower, tub, kitchen or bathroom sink, there may be a clog or sewage backup. Slow drainage in multiple areas of your home is a sure-fire indicator of a clog in the main sewer line.
Flooded Yard or Basement: Accumulating water in your yard or basement signifies a possible clog in the main sewer line. Most yards, attached garages, and basements have floor drains buried underneath. Sewer lines usually backup into these places before backing up inside the home.
How to Prevent Sewage Backup
Install Check Valves: Having check valves on your basement plumbing fixtures and floor drains can help prevent gray water and sewage from backing up into your home. Check valves allow water to drain out into the main sewer but prevent water from flowing back up the drain even if the municipal skewers or outside drains get overwhelmed during a rainstorm.
Install a Sump Pump: A sump pump can be a life-saver when it comes to removing flood water. Grey water sump pumps can move household water to the sewer, while groundwater pumps help remove excess underground water.
How to Streamline Sewage Backup Cleanup
If you are experiencing an unfortunate sewage overflow, immediately close the main water valve and contact a trusted company for water damage restoration in Toronto.
Raw sewage is high in contaminants—avoid direct contact with the sewage water. Sewage backup cleanup is best left to experienced professionals.
Trust the expertise of Water Damage Toronto, Canada's #1 water damage & restoration company. Our unique multi-step restoration approach minimizes secondary damage and ensures effective cleanup. Our trained professionals will be at work within 45 minutes or less!
Call Water Damage Toronto for emergency water damage restoration, sewage backups & cleanups, burst pipes, flood cleanups, and more.