How to Approach Black Water, Water Damage Restoration?
Posted in Sewage Backup Cleanup, on February 11, 2022 By admin
---
When a team shows up on-site for water damage restoration in Toronto, they will classify the type of water damage or leak to identify the severity and risk of the incident. For instance, Class 1 water damage is clean water and generally easy and safe to handle.Class 2 is slightly contaminated and should be handled with caution. Finally, Class 3 water damage in Toronto, also commonly known as black water, is contaminated and considered hazardous. This requires sewage backup cleanup from a trained water damage restoration team.
To learn more about how to approach black water damage restoration in Toronto, continue reading.
What is Black Water and What Causes It?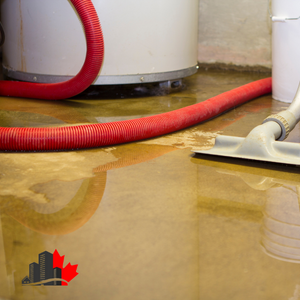 Black water comes from groundwater flooding, sewage backups, kitchen sinks, or overflowing toilets. As a result, the water is contaminated with microbes and biohazards, making it incredibly unsafe to be around. If black water damage in Toronto occurs after a flood, as opposed to sewage backup, it's even more hazardous; it contains everything, from sewage, fertilizers, and anything other chemical runoff that seeps into the ground.
Without close inspection, black water may sometimes look like regular, clean water, so that's why it's imperative to contact a professional immediately for water damage restoration in Toronto. Our experienced specialists at Water Damage Toronto will effectively identify the source of water damage and conduct a thorough plan of action to restore your home to its normal, pre-disaster condition.
What are the Risks of Black Water?
Because black water is essentially sewage, it's full of bacteria and viruses that may cause diseases and infections. Blackwater exposure may lead to hepatitis, gastroenteritis, giardiasis, or infections if you have open wounds. Most commonly, black water exposure causes campylobacteriosis, an illness that causes severe digestive issues.
Before you hire a team to conduct professional sewage backup clean up, make sure you don't touch any area that's been contaminated, and stay out of the area as much as possible — even inhaling around black water could lead to disease and illness. If bacteria or contaminants from black water enters your bloodstream, like from a cut or a scrape, the effects are accelerated, and you will need to visit a health professional as soon as possible.
Do Not DIY Sewage Backup Cleanup
Regardless of water damage class, it should always be conducted by a professional, but with black water, doing so is even more critical. If you experience black water damage and think of reaching for your mop and bucket — don't. If you try to clean it up on your own, it will spread the water and bacteria around the house, making your home even more dangerous for your health. If you require water damage cleanup and restoration, don't hesitate to contact a professional right away.
Responding With Water Damage Restoration Toronto
Blackwater remediation needs to be done swiftly and professionally. Professional remediation requires careful planning, special equipment, and effective clean up. At Water Damage Toronto, our experienced team of specialists will arrive quickly at the scene and perform comprehensive water damage restoration.