How to Decide What Can be Salvaged Following Water Damage
Posted in Water Damage, on July 15, 2021 By admin
---
Water damage restoration minimizes the impact of flooding and burst pipes within the home. One of the most crucial steps in the water damage repair and clean up process is salvaging belongings. Not every item can endure water damage, but with the help of the Water Damage Toronto team of cleanup and repair specialists, you can restore your home and save tons of stuff.
While a water damage specialist is the most efficient way to salvage your belongings, here are some guidelines you can follow as you decide what to keep.
What Can Be Salvaged?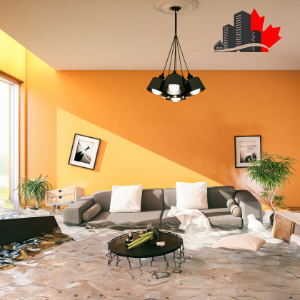 Non-porous materials don't absorb water, so cleaning those items after a pipe burst is straightforward because the damage, even after being immersed in water, is typically minimal. Plastic, tiles, glass, and metal are all non-porous which can quickly be restored with cleaning and air drying.
In the case of flooding resulting from a burst pipe, flood water is most likely non-toxic. Therefore your clothes and other soft fabrics like cotton, spandex, and linen can be saved in the laundry machine and dryer. To be sure, it's best to leverage the help and advice of a water damage restoration expert, as other sources of water damage, like sewage backup, can be more hazardous.
Wet photographs can be carefully separated while still damp. Ensure that you separate them before they dry even a little bit, and air dries the photos for a while to restore them. It's good practice to store belongings with sentimental values on high shelves, as they are challenging to salvage during most water damage repair and clean up.
What Might Have to Be Discarded?
If any items, porous or non-porous, have been wet for less than 24 hours, there's a chance for them to be saved.
Padded furniture — such as mattresses, chairs, and couches — exposed to toxic or contaminated water is difficult and expensive to restore, so your best option is often to replace them. Not all wood in your home can be saved with professional water damage repair and clean up. Laminate flooring and plywood are porous, which accelerates water damage. When water seeps below the floor for a long duration, wood will likely buckle (nails and floorboards lift), and discoloration will become apparent.
However, if water damage restoration happens quickly following a flood, hardwood furniture and flooring can be saved, but it will most likely need professional specialists to minimize the damage. If you respond quickly and call Water Damage Toronto, we will be there in under an hour.
Sometimes burst pipes and flooding is inevitable. The best solution is to act fast. Water Damage Toronto offers comprehensive water inspections to assess hazards and maintain safety. If you experience any type of flooding, we offer emergency services, 24/7 customer services support, and fast response times so you can minimize damage, salvaging and restoring as many of your belongings as possible.
Contact Water Damage Toronto today for a free water inspection or for emergency water services.