How to Prevent Secondary Water Damage?
Posted in Water Damage, on March 18, 2022 By admin
---
When water infiltrates your property, needless to say, it's an unexpected and unpleasant intrusion. While you may be overwhelmed when you first notice flooding or a sewage backup in your basement, it's critical to be diligent and contact Water Damage Toronto for water damage restoration in Toronto for the best outcome. If water damage is left untreated for more than 48 hours, secondary water damage starts to set in, which can leave the property with lingering structural issues.
It might seem alarming, but with the help of knowledgeable and experienced technicians, you can streamline water damage restoration in Toronto to get your property back to its original condition.
What is Secondary Water Damage?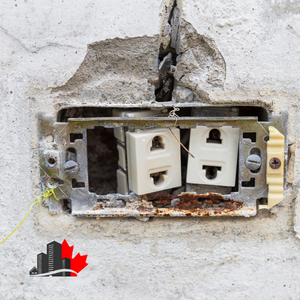 Secondary flood or water damage can show up in multiple ways, but it is essentially the impairment to property, building, materials and structural elements' appearance or function. Primary water damage has clear signs: flooding, leaks, and even sewage backup in your basement, all of which are difficult to ignore. Secondary water damage, on the other hand, is unexpected. Its effects are felt later, usually sneaking up on you. It can show up in your walls, sockets, impact air quality, and so much more.
Water damage restoration in Toronto is key to mitigating secondary water damage and its long-term effects on your property.
Risks of Secondary Water Damage
The more time you wait for water damage restoration in Toronto, the more damage your property can ensure. The most common forms of secondary water damage are mold, electrical damage, corrosion, and wood rot.
Among the potential harms of secondary water damage, mold infestations are the most often the worst. Without professional water damage restoration, moisture deposits attract mold spores which can become colonies in as little as 24 hours, then requiring professional mold removal in Toronto. Depending on the species of mold or bacteria from sewage backups in your basement, secondary water damage can have severe health implications for a property's occupants in addition to significant structural implications.
Avoiding Secondary Damage
Avoiding secondary water damage altogether starts with recognizing primary water damage - leaks, floods, sewage backs ups. When you see any possible signs of water damage in your home, such as puddles, bubbling in drains, discolouration on walls, or even an unusually high water bill, contact a professional in Toronto for water damage restoration right away.
A fast response will streamline cleanup, preventing water from spreading throughout your property. Professional, comprehensive, and fast water damage restoration from the certified professionals at Water Damage Toronto is the most effective way to avoid secondary water damage and keep your home safe and sound.
How Restoration Reverses Secondary Water Damage?
Secondary damage can be reversed with trusted restoration services. When you contact Water Damage Toronto for water damage and sewage backup cleanup, we will show up on-site in 45 minutes or less to quickly launch restoration efforts. Using our refined multi-step water damage restoration approach, the team at Water Damage Toronto will reduce the opportunity for secondary damage to affect your property or the people in it.
Expedite your water damage and flood restoration in Toronto. We'll be on scene in 45 minutes or less!