How to Properly Address a Water-Damaged Bathroom
Posted in Water Damage, on May 20, 2021 By admin
---
With all of the plumbing pipes and drainage pipes running through a bathroom, it only takes one mishap to create havoc. In many cases, a bathroom flood occurs suddenly, and water damage can be quite extensive before anything is discovered.
Every type of water damage is unwelcome, and the whole experience can get frustrating for any homeowner. The good news is that with professional water damage restoration, a damaged room can be returned to its original condition in very short order.
When dealing with water damage of any kind, things should be addressed as soon as possible. Quick action is the answer to preventing additional damages from occurring. In fact, with an immediate response, effective restoration is assured.
Various Causes of Water Damage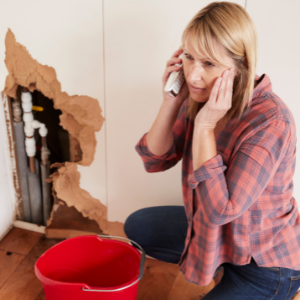 Whether it's a leaking toilet, an overflowing bathtub, or burst plumbing, water damage is typically the result. Regardless of the cause, water damage repair and cleanup will eventually be needed to address the flooding and then provide appropriate restoration. The top priority, of course, is to make necessary repairs, followed by restoration work that returns everything to its original condition.
Professional Attention is Required
With water damage, repairs and restorations should be done right the first time. At Water Damage Toronto, we don't cut any corners. Our restoration team is IICRC Certified, and we follow the established protocols of the Institute of Inspection Cleaning and Restoration. We have handled every type of water damage and restored many properties to "pre-disaster" conditions.
Addressing Damaged Areas First
Before any restoration work takes place, damaged areas must be properly addressed. At CRS, we use industrial equipment to speed up the drying process. We use powerful dehumidifiers and high-velocity air movement machines to effectively dry out a flooded area. Once all damaged materials are removed (and contaminated materials), the process of restoration can begin.
Renovation and Restoration Work
At Water Damage Toronto, our in-house Rebuild Division makes every effort to restore your property to its original state. We provide all construction services, working with homeowners and business owners to repair, renovate, and re-model water-damaged spaces. CRS also deals with all of the major insurance companies in Canada, thus making insurance claims easier.
For Professional Water Damage Restoration Count on Water Damage Toronto
Water Damage Tornto specializes in professional water damage repair and cleanup. We service both residential and commercial customers throughout the GTA. Most importantly, our in-house people are IICRC Certified and highly qualified to work with all types of water damage.
Whatever the extent of the water damage, our approach is comprehensive – from inspecting the premises to making necessary repairs to completing the restoration. When required, we also provide "pack out" services to protect personal belongings while restoration work is in process.
When emergency service is needed, Water Damage Toronto can offer customers round-the-clock service. This is ideal when urgent attention is required and in an effort to prevent more damage from occurring. Find out more about our services by calling 416.479.9211 or contact us online.