How to Respond to Water Damage in Toronto
Posted in Water Damage, on February 17, 2023 By admin
---
Water damage in Toronto can catch you by surprise. In some cases, leaks and flooding will occur over long periods without presenting visible symptoms. While in other cases, a sudden pipe burst or sewage backup will send water rushing into your residential or commercial property. When water damage happens, you must act fast. If not, you may face dire consequences, like mold infestations and structural damage. For effective water damage cleanup and restoration, contact the trusted professionals at Water Damage Toronto.
Here's how you should respond to water damage in your Toronto property.
Find the Water Source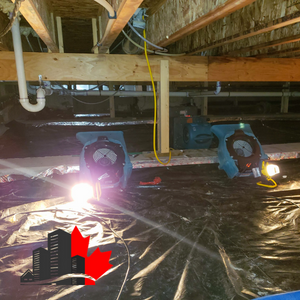 As soon as you notice water infiltrating your property, try and find the water source. If drains in your basement are bubbling, it may be due to sewage backup or blocked municipal pipes. If water is seeping through the walls in your basement, it could be due to foundation issues and excessive rain or snow. Other causes of water damage include a burst pipe, appliance leaks, sump pump malfunction, or a clogged gutter. Once you determine the water source, contact a professional restoration company and inform them of the water source. This way, the specialists will be able to implement an informed plan of action for water damage cleanup.
Call Water Damage Toronto
Contacting Water Damage Toronto as soon as possible is imperative when minimizing flooding or water infiltration damage. With Water Damage Toronto, our experienced technicians will arrive quickly at the scene to reduce the damage water will have on your property.
Call Your Insurance Provider
To minimize water damage costs in Toronto, you'll need to file an insurance claim. At Water Damage Toronto, we work with every insurance company and will guide you through the entire procedure, making it efficient and seamless. Insurance coverage depends on individual policies, so sometimes, it may not be covered. In some cases, an insurance company will send an adjuster to look at the damage and determine if restoration and cleanup are necessary.
Assess the Extent of Damage
Once our team arrives at your property, we'll assess the damage. Water damage is divided into four classes, all varying in severity. Class 1 requires little to no repairs and saturates materials with low porosity. Class 2 affects carpeting and parts of the wall and requires some restoration — if not, it may result in lasting structural damage. Class 3 and Class 4 are severe cases of water damage where there's widespread water saturation and damage.
Inspect for Mold
While your property may be restored, there may be a lingering risk of mold outbreaks. Following water damage restoration, contact a mold remediation company for a mold inspection and mold removal in Toronto. This way, if mold is present, you'll be able to effectively eliminate it as soon as possible.
Water Damage Restoration Services
Water Damage Toronto will fully restore your property back to its normal condition. Your property will be dried out quickly with comprehensive restoration strategies, powerful tools, and professional techniques. We'll work with you for personal content restoration, sorting salvageable items, and advising you on preventing water damage from happening again.
For advanced and thorough water damage restoration, contact Water Damage Toronto today.