How to Spot Mold After Water Damage Restoration
Posted in Water Damage, on September 19, 2022 By admin
---
Water damage restoration is a multi-step process that requires trained staff and high-tech equipment that can efficiently dry affected areas following pipe leaks, burst pipes, basement flooding, and other instances of water damage in Toronto. When restoration is not completed within 48 hours of a leak or water damage incident, mold testing and mold inspections uncover higher levels of mold. To keep mold out of your property, get prompt water damage cleanup and restoration services with Water Damage Toronto. Using high-powered driers and fast restoration tactics, we will help you quickly get your property back to a safe and healthy condition. If you have recently experienced water damage in your home, keep an eye out for mold, so you can get mold removal in Toronto in a timely manner.
Here are some tips to help you detect mold after water damage.
Why Preventing Mold Matters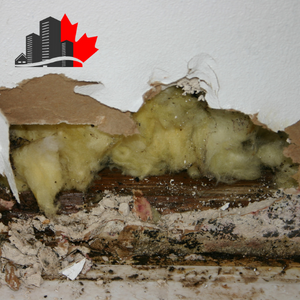 As a symptom of water damage, mold is a persistent contaminant that damages building materials as it spreads, even harming structural integrity. But even more importantly, exposure to mold causes health effects that range from mild to severe depending on the species of mold. It isn't unusual for black mold to infest bathrooms, basements, attics, and other water-prone rooms that haven't had water damage restoration.
By scheduling a mold inspection, you can identify materials and rooms in your home that may have been affected by water damage. For immediate response to flooding or leaks, contact Water Damage in Toronto. Our team of IICRC-trained professionals will be on-site in the Greater Toronto Areas in 45 minutes or less.
Mold Inspection & Detection After Water Damage
At first, mold may not be immediately noticeable. But if water damage restoration is not completed effectively, you may be able to detect heightened levels of mold through your senses. If you suspect an infestation after basement flooding, burst pipes, or sewage backups, contact Water Damage Toronto for mold removal in the Greater Toronto Area.
What Does Mold Look Like: Depending on the species of mold, the appearance will vary. Commonly encountered species of mold after a water damage incident includes black mold (Stachybotrys), Aspergillus, Penicillin, Cladosporium and many others. Typically they will appear in fuzzy or velvet texture in earth-toned colours including, but not limited to, white, black, grey, brown, and yellow.
What Does Mold Smell Like: Mold has a distinct odour, especially as outbreaks grow more extensive and more prominent. The smell of mold can be described as wet and earthy. Some people say the scent is comparable to rotting food or plants.
Where Is Mold Found: In the aftermath of a leak, flood, or drain backup that isn't treated, mold is likely to show up in any area where water damage restoration is not completed thoroughly within 48 hours. Because of the proximity to water via plumbing infrastructure, leaks, and appliances, the attic, basement, kitchen, and bathroom are the most likely to be affected by mold.
Water Damage Restoration in Toronto
The best way to combat mold is to get ahead of it, with high-quality mold inspections and advanced water damage restoration right away.
Keep your property mold free with water damage cleanup.