How to Tell If You Need Emergency Water Damage Restoration
Posted in Water Damage, on November 19, 2021 By admin
---
Experiencing water damage in your home, even if it is just minimal, isn't a good time. While it's crucial to begin water damage restoration and clean up as soon as possible to minimize damage, some people don't realize that time is of the essence when it comes to water damage. They end up waiting too long before contacting Water Damage Toronto for emergency water damage restoration in Toronto.
Emergency water damage restoration in Toronto can only happen if an urgent situation is recognized. So to act fast, it's imperative to understand the signs of water damage and who to call. All water damage should be repaired within a 48-hour window to minimize damage, but sometimes, it can be more extreme and requires emergency water damage restoration in Toronto. At Canada's Restoration Services, we will show up on-site for water damage restoration within 45 minutes in the case of an emergency.
Here are a few tips so you can quickly identify if water damage is an emergency.
Signs of Water Damage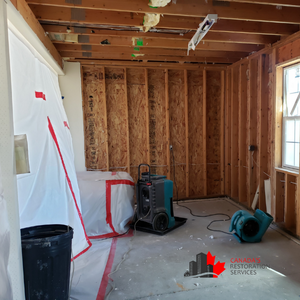 Water damage isn't always apparent, so it's essential to keep an eye out for signs that water damage may be happening — or has happened. To start, look for stains, cracking, or bubbling on walls and ceilings, water damage. The stains and discolouration are just the beginning; you may also find wet spots, a musty smell, or even puddles of water accumulating indoors. Finally, if you can't see any visible signs, it's always a good idea to check your water bill — if it's higher than usual, there might be a hidden leak in your home.
Unchecked Water Damage Results
Keeping water damage unchecked and left to settle can be incredibly dangerous and lead to health hazards. Untreated water damage can quickly diminish the structural integrity of your home from discolouration and pipe corrosion to weakened floors and drywall. In severe cases, extensive water damage will wear away attic support beams.
Of course, with the absence of immediate water damage restoration comes mold and mildew. Mold can proliferate with the presence of water and excessive moisture, and it's tough to get rid of unless there's professional mold removal conducted and preventative measures put in place, such as a dehumidifier. To avoid mold infestations and other damages, it's in your best interest to complete water damage restoration as soon as possible.
When and Why Water Damage is an Emergency
Some kinds of water damage are more of an emergency than others. For instance, a burst pipe, overflowed toilet, or even a hole in the roof is sudden and extreme and can produce severe damage. And while it may seem minor, a leaking shower, dishwasher, or just a cracked window can result in significant damage, so when you notice it, it's imperative to contact a professional service for emergency water damage restoration and clean up.
Choosing Water Damage Toronto
Water damage happening in your home is a negative experience all around, but it can feel even worse when it's an emergency that hits you like a bucket of water, and you're unprepared. When it does happen, stay calm, and contact Water Damage Toronto right away. We can be on-site quickly.