Key Components to Successful Water Damage Restoration During a Storm
Posted in Water Damage, on August 13, 2021 By admin
---
The summer months in Toronto can bring an influx of unexpected weather, from thunderstorm warnings, torrential downpours, and on the odd occasion, hail. The frequency of thunderstorms and rainfall can seriously affect our homes, and a water damage restoration service may be necessary. Despite all the technology and weather forecasts we have at our disposal, Mother Nature still has an air of mystery — we never know how severe some rainfalls might be, making it challenging to prepare for any emergencies. When it does happen, though, Water Damage Toronto can be at your home within 45 minutes of your emergency to help with water damage repair and clean up.
Continue reading to find out how you can increase safety in your home during a storm and prevent water damage.
Preventive Measures: Before the Storm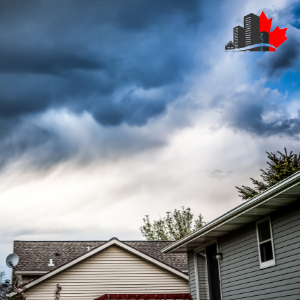 Prevention is the best solution, especially when it comes to water damage. Flooding and water damage can happen with little warning, so if you know a severe storm is imminent, there are preventive measures you can do to protect your valuables and the structural integrity of your home.
Anything in your home that you can elevate — electronics, furniture, valuables — should be. When it comes to electronics and potential flooding, you can never be too safe; make sure they're disconnected and placed in a protected area. Porous materials, such as soft furniture, mattresses, and sofas, are tough to restore and may have to be discarded during water damage repair and clean-up. Not only are they hard to salvage, but they are highly susceptible to mold growth if left on the floor and unprotected.
You should check to see how your property is graded; you always want the ground sloping away from your home to ensure proper drainage. If your area is prone to flooding, a sump pump is a fantastic investment and dramatically reduces the need for water damage restoration.
Reactive Measures: What To Do After the Storm
If flooding happens during a storm, the smartest thing is to call Water Damage Toronto for safe and professional water damage repair and clean-up. Prior to our team arriving within the hour, you can do a few things to minimize the damage.
If you haven't taken preventive measures, move your electronics, valuables, and all salvageable items to a dry and safe part of your home. Not only does elevating your valuables ensure their protection, but it also assists with airflow. No matter how little water is in your home, increasing airflow is vital to the health of your home; turning on all vents and fans significantly reduces the potential for toxic mold growth.
Water Damage Toronto has been the industry leader in water restoration services for 10 years, and our specialized and certified team will restore your home back to its "pre-disaster" condition. By responding immediately to your emergency, it limits further water damage and structural vulnerabilities. If you need water damage restoration, contact our 24/7 customer service team as early as possible.
Contact Water Damage Toronto today for all your water-related inquiries or emergencies.