Reasons You May Experience A Sewer Backup in Toronto
Posted in Sewage Backup Cleanup, on September 03, 2021 By admin
---
As a homeowner, a sewage backup problem is something you never want to experience. Unfortunately, sewage backup in Toronto isn't uncommon, especially in older homes with ageing sewer lines. Water Damage Toronto provides efficient and reliable sewer backup repair services for people living in Toronto and its surrounding areas.
If you happen to experience a sewage backup in your home, whether it be from sewer lines being blocked, or even trees infiltrating the pipelines, our trusted team can help you with sewer backup repair in Toronto.
Continue reading to learn about the signs and causes of sewage backup in your home.
Signs of Sewage Backup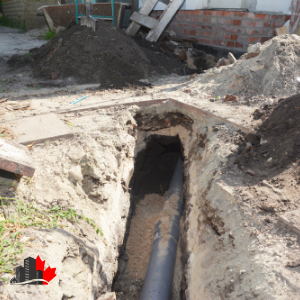 The easiest way to tell if there's sewage backup happening is through smell. If there's a foul stench coming from your drains, then there's an undeniable issue, and it's best to call Water Damage Toronto for sewer backup repair services. In addition to the odour of raw sewage, water backing up into your tub, toilets, or sinks is a telltale sign of a sewage backup.
Don't turn a blind eye to slow drains in your sinks or bathtub; if things are draining slowly, it can indicate sewage backup happening now or in the near future. Using a liquid plumber for your slow drains can only do so much and can actually be harmful to your pipes; rather than a do-it-yourself tactic, contact Water Damage Toronto for sewer backup repair in Toronto.
Without professional assistance, there is a risk of even more damage like damaged pipes and water damage.
Causes of Sewage Backup in Toronto
A sewer backup can happen in many ways, but the most common causes are related to the main sewer line or the small drain pipe. The main sewer lines connect everything in your house, and if it gets blocked, then sewage only has one way out: your sinks, toilets, or bathtub.
The small drain pipes are only individual pipes being clogged, but they can still cause a significant backup in your home. As opposed to the main sewer pipe, a clog in the small drain pipe only affects the toilet or bathtub.
Older homes generally come with ageing sewer systems, which are more susceptible to breaks and sewage backup. If you have an older home, it's best to be proactive and replace ageing pipes before damage occurs.
Other causes of sewage backup are out of our control, such as root intrusion, excessive rainfall, or broken city sanitary mains. Root intrusion occurs when tree roots enter sewer lines and pipes because they seek water and moisture, causing the pipes to break and become clogged. Heavy rainfall, melting snow, and flooding bring significant risks to sewer lines. If too much rainwater and melted snow enters the sewer and goes above the limited capacity, all the excess can flow into your sewer line, causing it to back up.
Sewer Backup Repair Services in Toronto
If you ignore the telltale signs of sewer backup, you can find yourself with a serious blockage in your pipes and an even more serious bill to repair everything. An ignored sewer backup can affect the structural integrity of your home, possibly leading to foundation repair, water damage restoration, and even rodent or insect extermination.
If you notice the signs of a sewer backup in your home, you can depend on our certified team at Water Damage Toronto for comprehensive and advanced sewer backup repair services. Our technicians follow an in-depth strategy to help get your home back to its pre-disaster condition.
Contact Water Damage Toronto today and get ahead of the problem.