Sudden Causes of Water Damage You Should Prepare For
Posted in Water Damage, on December 16, 2022 By admin
---
When you think of water damage, you might think it happens because of torrential rain or flooding. However, when water damage restoration is required, it's not just because of natural disasters. Water damage is caused by a myriad of factors, such as sewage backup, plumbing mishaps, appliance leaks, as well as severe weather. When water infiltrates your home, it's vital to conduct water damage repair and clean up immediately. If not, it may result in the need for additional services, such as mold testing in Toronto. To avoid the stress of water damage and potential mold infestations, stay vigilant about water damage and what may cause it.
Here are a few causes of water damage that you can prepare for.
Leaking Pipes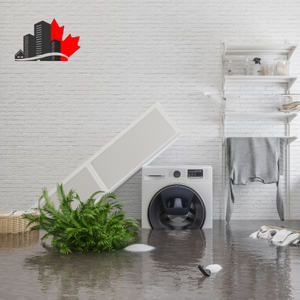 Whether it's due to a burst pipe or deterioration over time, water damage due to leaking pipes and plumbing issues is possible. It may happen due to a broken pipe within the walls or a loose-fitting pipe under your kitchen sink. Whatever the reason, it will do significant damage. To prevent this from happening, always keep an eye on your pipes and make sure they're updated, adequately insulated, and well-fitting. If a leaking pipe goes unnoticed for quite some time, you will not only have water damage in your home, but also a mold infestation. Once water damage restoration is complete, contact a professional for mold testing in Toronto to determine the prevalence of mold within your property.
Blocked Drains
While blocked drains may not be at the top of your mind when water damage occurs, they are a significant cause of sudden flooding and damage. The drains in your kitchen sink, bathtub, or bathroom floor will clog for several reasons, either from hair, grease, or debris, and will easily block the drain. As a result, blocked drains will back up and cause flooding in your property. If you notice drains in your home are starting to smell, bubble, or make unusual sounds, you may soon be at risk of water damage. Before water gets into your home, contact a professional.
Severe Weather
Storms will always pose a risk of water damage. Sometimes water damage from severe weather will be gradual, but other times, it may cause flash flooding, especially if your residential or commercial property is in an area prone to floods. To keep flooding from torrential downpours at bay, invest in a sump pump and a backup generator. This way, the sump pump will always stay on during a storm to ensure water stays away from your property.
Appliance Leaks
Water damage can happen due to leaking appliances, such as your washing machine or dishwasher. If water supply lines aren't properly connected or are deteriorating due to old age, the water will seep into your property and cause significant water damage. When it comes to appliance leaks, prevention is the best solution. Regularly check on the supply lines to make sure they're properly secured and in good shape.
Contact Water Damage Toronto
If you do experience water damage, leave the work to our certified specialists at Water Damage Toronto. Our team will be at the scene within 45 minutes of your call to ensure that your home gets restored effectively and efficiently.