Watch Out for Water Damage From Ice
Posted in Water Damage, on December 03, 2021 By admin
---
Sometimes the winter brings beautiful views to the city, making Torontonions feel as if they're in a snow globe. Other times, cold temperatures just mean ice: icy roads, stairs, homes, and roofs. When something goes wrong in the winter, even the most minor inconvenience is worse and ice is one of those winter problems that magnify already bad problems. Winter water damage in Toronto is no exception.
If your property isn't equipped to deal with the icy weather that winter brings, you may fall victim to leaks, clogged sewer lines, or the dreaded burst pipes. Despite being prepared, sometimes water damage restoration in Toronto is inevitable. If you can't escape the woes of winter leaks and water damage, Water Damage Toronto offers fast and effective sewage backup cleanup and restoration.
Here are preventable measures you can take to avoid water damage this winter.
How Does Ice Cause Water Damage?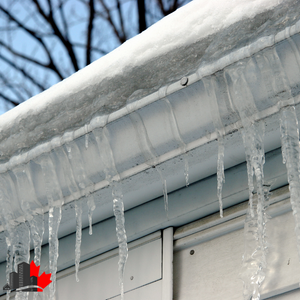 Ice can cause water damage in several ways, but it usually comes down to a lack of maintenance and insulation. Backed up gutters or outdated attic insulation can be instrumental in frozen sewer lines, burst pipes, or ice dams.
Frozen Sewer Lines
When water is trapped in your sewer lines and the temperature is below zero, it will often freeze. As it freezes and expands causing significant blockages in the pipe. Frozen sewer lines can be prevented with a few measures such as improper insulation, heating malfunctions, or something as simple as a drop in temperature. As a result, frozen sewer lines cause sewage backup, and you'll need to call a professional for sewage backup cleanup right away to keep bacteria ridden sludge out of your pipes. To quickly identify a sewage back up from blocked sewer lines, look for unexplained puddles in the basement or unpleasant smells coming from your drain.
Burst Pipes
Chilly weather can cause your pipes to freeze if they aren't well insulated. Ice forming in your pipes can cause significant blockages, and with the extra pressure, it can lead to them rupturing. If you want to check, see if your taps are working; if nothing is coming out, it's a telltale sign that your pipes are freezing. A burst pipe quickly causes significant damage. If your pipe is frozen or spewing water, contact our team for water damage restoration in Toronto.
Ice Dams
Ice damming, in essence, is when a thick ridge of ice forms along the edge of your roof usually due to clogged gutters. When the ridge of ice begins to melt, there's nowhere for the water to go — except your attic. The sheer amount of ice on your roof, combined with the lack of water flow, will eventually cause a leak through your roof and into your home.
Prevention is the Best Solution
To avoid water damage happening from ice buildup and frigid winter conditions, keeping your home well insulated and well maintained are the best things you can do. To keep your sewer lines and pipes from freezing, your pipes must be properly insulated, outside vents are sealed, drains are clear, and that you let faucets drip occasionally. Ice dams can be prevented simply by keeping your gutters clear.
Contact a Professional
There are several ways you can prevent water damage from happening, but it's still an unexpected problem that can occur throughout the winter months. If you've experienced water damage, it is imperative that you contact a professional right away to minimize damage.
Call us for fast water damage restoration today!