What to Do Before a Plumber Fixes Your Burst Pipe
Posted in Water Damage, on March 29, 2021 By admin
---
The truth is, there's never a good time for a burst pipe, whether it's in the kitchen, the washroom, or the basement. In a bad situation, there may be a need for water damage clean-up. And in the worst-case scenario, there may be a need for water damage restoration from a company in Toronto like Water Damage TO.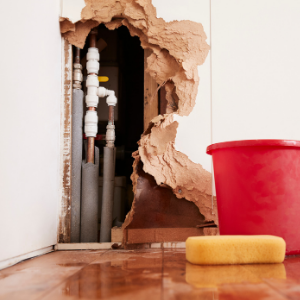 Winter is an especially precarious time for weak plumbing pipes because water freezes and expands with tremendous force. In terms of priority, there are several things to do when a plumbing pipe bursts, and calling a professional plumber is top of the list.
When plumbing pipes are damaged and leaking, burst pipe repair is needed to get things under control as quickly as possible. In the event of a serious water damage emergency, a professional team will have to get everything repaired, restored and remediated.
Signs of a Burst Plumbing Pipe
Not all broken water pipes will flood the house. A damaged pipe will often perpetuate a slow leak, which will eventually cause water damage to property and belongings. Whether it's a slow leak or gushing water, the situation can be dire, and water damage clean-up is required.
Dealing with a Burst Water Pipe
With any burst water pipe, it's essential to turn off the main water supply. In a serious situation, the electricity should also be shut down. It's then necessary to determine if the burst water pipe is either inside the home or outside. Faucets and toilets should be flushed of all remaining water.
Cleaning Up After a Burst Pipe
When the source and origin of a water leak are determined, it's vital to collect all excess water to prevent mold from growing. The next priority is to arrange for professional burst pipe repair, followed by water damage restoration, to complete the job.
When to Call The Professionals In Toronto
With a water damage emergency, there is no alternative but to call a professional. At Canada's Restoration Services, highly experienced water damage specialists deal with everything from water leaks to flood damage to sewage backup (with fast turnaround and effective results).
For Water Damage in the Greater Toronto Area, Count on the team at Canada's Restoration Services
Canada's Restoration Services provides all types of water damage remediation in Toronto and the GTA. We also offer professional mold removal services as well as fire damage restoration.
When urgency is needed, our remediation teams can be on-site within an hour (we are also available 24/7 for emergencies). Whatever the damage, we aim for 100% restoration results.
At CRS, in-house technicians are IICRC Certified. They assess the extent of water damage and recommend the scope of restoration. Everything is done to the highest construction standards.
Servicing both residential and commercial customers, CRS works in tandem with most insurance companies in Canada. We make every effort to restore everything to "pre-disaster" conditions.

Find out more by calling one of our water damage professionals at 1-888-551-0514 or visit our company website at www.canadarestorationservices.com to learn about our services.