What to Do While Waiting for Water Damage Restoration Help to Arrive
Posted in Water Damage, on June 08, 2022 By admin
---
We understand that things happen that can cause us to be in distress, making it difficult to think clearly and decide what to do. Whether you need a flood, burst pipe, or a sewage backup cleanup, immediate action is essential to prevent contaminated water from spewing throughout your home. Your first order of business is calling a trusted provider of water damage restoration in Toronto. Our team at Water Damage Toronto promises to be at your GTA property within 45 minutes or less of your call, but what can you do until then?
Below we discuss 6 actions you can take while waiting for help to arrive.
Follow the Directions of the Restoration Company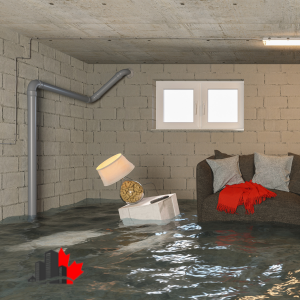 After contacting a trustworthy restoration company, it is essential that you follow the instructions that they provide you with. All water damage emergencies are different and carry varying levels of risk from clean water leak repair to sewage damage cleanup which typically is toxin and bacteria-rich. When you call Water Damage Toronto, we will guide you with best practices to keep you, your property, and anyone else in the area safe.
Shut Off the Water Source
If ok-ed by your water damage restoration team, shut off the water supply to the affected areas of your home. This is particularly important for water damage restoration in Toronto when the culprit is a burst pipe or leak. Shutting off the water minimizes the amount of water in your home, limiting the amount of damage it can cause.
Remove Excess Water
Removing excess water is one of the ways to help the spread of water throughout your home. You can put down towels and blankets, buckets (good for roof leaks), or if it is safe to do so - use a shop vac to suck up some of the water. Once the Water Damage Toronto team arrives on-site, they will leverage high-tech tools, dryers, and water pumps to effectively remove all of the water.
Remove Items to Prevent Further Damage
It is crucial to take action steps to prevent further damage. If safe to do so, try removing some items or furniture out of the way of the water - this can help prevent possible destruction. Prioritize high-value items, most susceptible to water damage. If the water source is contaminated, such as with a sewage backup cleanup, leave the removal of property and belongings to the professionals.
Turn Off Electricity to Affected Areas
If you are able and it is safe to do so, we recommend that you turn off the electricity to the affected areas of your home. We do not suggest that you walk through water, especially if it is higher than your wall outlets. Walking through high water in your home is dangerous, so avoid that altogether.
Check Your Sump Pump
Another suggestion is to check your sump pump, which is most likely located in your basement. A high-quality sump pump works to remove excess water from basement flooding automatically. While you wait, you can check to see if your sump pump is working correctly to assist you in getting rid of extra water.
Why Choose Water Damage Toronto?
Our professionals specialize in water damage cleanup and restoration services, providing service in the GTA area. If water damage or flooding occurs, it's key to handle the issue right away as it can lead to secondary water damage and the need for mold removal in Toronto. We offer emergency water damage restoration, water extraction, flood damage restoration, sump pump backup cleanup, sewer backup repair, etc. Our goal is to provide our customers with fast, efficient and good quality work that leaves your home clean and you feeling relieved.
Need an emergency water damage restoration? Call us today.