What Is In a Sewage Backup?
Posted in Sewage Backup Cleanup, on June 17, 2022 By admin
---
A sewage backup is one of the worst types of water damage in Toronto that you can experience. Unlike a burst pipe or overflowing sink, sewage backup in the basement is not clean water; it's full of pollutants that create an unsafe and unhealthy environment. Sewage backups may occur for various reasons, but the primary cause is usually due to blocked drain lines, sending sewage backwards and into a property.
Learn why sewage backups in the basement are dangerous and require immediate water damage restoration and clean up. If you have a sewage backup or basement flooding in the Greater Toronto Area, call Water Damage Toronto and get it handled now.
Bacteria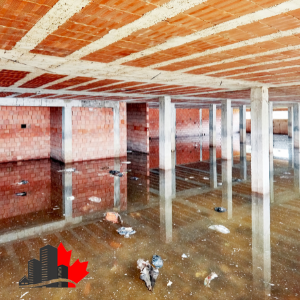 If sewage backs up through your floor drains and into your basement, a large amount of bacteria will be present, making it unsafe and resulting in potential health implications. Parasitic bacteria occur naturally in fecal matter and are the most common type of bacteria found in sewage. If sewage backup clean up isn't conducted right after sewage backup occurs, parasitic bacteria will linger and cause illnesses. Pathogenic bacteria may also be found in sewage backup in the basement, in which E.Coli, salmonella, and streptococcus are present. Exposure and inhalation of pathogenic bacteria will often lead to dehydration and several digestive issues.
Storm Runoff
After heavy rainfall, sewage backup and water damage in Toronto is incredibly likely. Excessive rain can easily overwhelm the sewers and main lines, causing sewage and storm runoff to back up into your basement. Storm runoff will pick up harmful pollutants that could easily find their way into your property. Pollutants and contaminants like garbage, oil, fertilizer, pesticides, chemicals, and dirt are never good to have in your basement. To avoid as much damage as possible, contact Water Damage Toronto for emergency water damage restoration and sewage backup cleanup.
Bodily Waste
Sewage backup is classified as blackwater damage and is full of toilet waste and contaminated with disease-contaminated bacteria. If a sewage backup occurs in your basement, there's a high likelihood that it contains bodily waste, and there are many health risks if exposed. Inhaling the vapours emitted by the sewage backup and bodily waste may result in gastroenteritis, including common symptoms like fever, vomiting, and severe gastrointestinal issues if left untreated.
Chemicals
Chemicals used in the septic system could find their in your basement. Cleaning products, paint thinners, paint, and pesticides may be poured down the drain by others, and if there is a blocked sewer main, these chemicals, along with bacteria and bodily waste, will back up into your basement. Not only are these chemicals unhealthy, but they may also damage the pipes around your property. Many of these chemicals are corrosive, break down pipes, damage pipe joints, and promote oxidation.
Safe Sewage Backup Cleanup Toronto
It's imperative to conduct sewage backup cleanup and water damage restoration as soon as possible. There are numerous signs to look out for when it comes to sewage backup in the basement, such as bubbling drains, unpleasant smells, slow draining in sinks or bathtubs, and gurgling sounds coming from your basement floor drains. If you notice any of these signs, sewage backup may be imminent. The Water Damage Toronto team is the city's go-to service provider for certified and advanced water damage restoration and sewage backup cleanup.